New Year's Eve Cocktails
POP THE CHAMPAGNE
Raspberry Mimosas
1 lemon wedge

1/4 c. granulated sugar, for rim

1/4 c. raspberry sorbet

4 oz. Chambord

1 bottle sparkling Moscato

Raspberries, for garnish
Instructions
Rim 4 glasses with a lemon wedge

dip in sugar

Place a small scoop of sorbet in each glass

then top with Chambord sparkling Moscato and a few fresh raspberries.
Champagne Cocktail 
1 sugar cube

2-3 dashes Angostura bitters

brut champagne
Instructions
Place a sugar cube in a chilled champagne flute

lash it with 2 or 3 dashes of bitters

fill the glass with brut champagne

squeeze a lemon twist on top.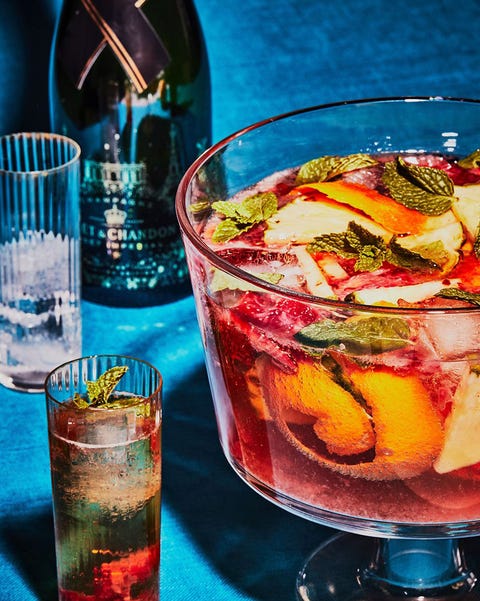 Champagne Punch 
brut champagne

1 1/2 oz. brandy

1 1/2 oz. Cointreau
1 bottle club soda

1 orange rind

pineapple slices

orange slices

mint

strawberries
Instructions 
Put strawberries into a large punch bowl and crush into small pieces

Add ice to punch bowl

Pour in champagne, brandy, Cointreau, and club soda

Stir

Garnish with orange rinds, sliced orange, sliced pineapple, and plenty of fresh mint!
#shophomebasicshasyoucovered
Stay Connected with us! 
Instagram // Facebook // Pinterest
Written By Samantha M. Chase 
Home Basics Staff 
---
Also in News
At Home Basics, we carry a number of different types, styles, and colors of hangers.
Another significant benefit to creating your own candy bar is that they aren't limited to just one holiday, and you can reuse the jars regularly.
At Home Basics, we think that your cleaning supplies don't need to be as boring as the task at hand.